Mac OS X Introduction
The operating system of your Mac is called Mac OS X. The latest version is called Mac OS X Tiger.
Mac OS X – A first look
The first thing that you will see when you start up your Mac is the desktop. We'll try to explain everything step by step.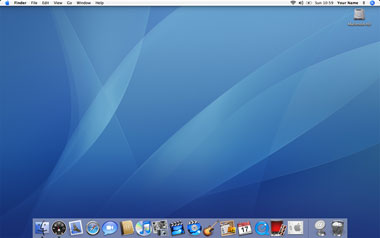 The dock
The dock is a convenient way to keep shortcuts to your favourite applications. The symbols in the dock are simply shortcuts to the real applications.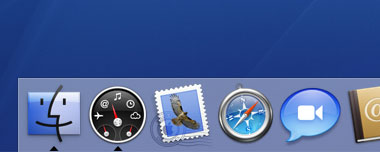 Note that adding or removing items from the dock will not delete the actual file, only the shortcut to the file.
To add an application to the dock, just find it (probably in the Applications folder), and drag its symbol into the dock. A shortcut has been created.
If you wish to remove an item from the dock, just drag and drop it onto the desktop. When you do so, a little cloud shows for a moment.
Menus
At the top of the screen you will see some menus. These menus change depending on what application you are using at the moment.
If there is ever anything you want to do in a certain application, try to find it in these menus.
Menu extras
Look at the top of your screen. To the right of the menus you are most likely to see a few symbols.

These little icons are mostly used to quickly edit your Mac's settings. Rather than having to open System Preferences, you can change the settings using Menu extras.
To change what Menu extras are visible, open System preferences. Click a preference pane and look for the checkbox that lets you choose if you want the specific Menu extra to be visible or not.

Users
Mac OS X offers a really nice way to switch between the different user accounts on the Mac. Near the upper right corner of your screen you will find your name. Click it and a list of all the users on the computer will appear.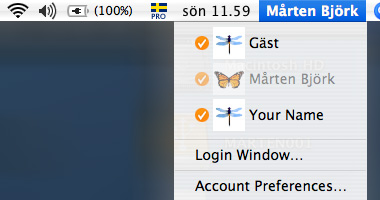 Now, just click another user in order to log in to his/hers account (password may of course be required).
Spotlight
If you look at the upper right corner of your screen, you will see a small magnifying glass. This is Mac OS X's search function. It is called Spotlight. To read more about it, click here.
Dashboard
Mac OS X has a great thing called Dashboard where you can run mini-applications called widgets. Read the article about it, Dashboard is awesome.